Learn a Language at Your Library
Learning a new language? Brushing up on your conversational skills? Check out the resources available to you as a Monterey Public Library cardholder. Our collection includes not only books and audio resources, but bilingual books with side-by-side text, magazines, classic works in their original language, a language learning database, and links to some of the best resources on the web.
As always, if you have questions...
Web and Subscription Language-Learning Tools
These tools will help you search and discover languages online
Rosetta Stone
An award-winning language immersion program that covers 30 languages. You will need a Library Card and PIN to access this resource. Tell us what you think!

Duolingo
Learn a language for free. Forever.
34 hours of Duolingo is equal to 1 college semester.

Mango Languages
Multimedia self-paced courses for 17 major world languages and 5 English-learning courses. You will need a Library Card and PIN to access this resource. Tell us what you think!

Harrison Memorial Library Language Resources
More resources from our neighboring Library.

Annenberg Media
Online video courses with offerings for French, Spanish, and English language-learning. The site also hosts free video on a variety of other educational topics.

I Love Languages
Very detailed index to language-learning tools online. Search by the language you are learning, or browse dictionaries, translators, blogs, and more.

BBC Languages
Audio and video courses for French, Spanish, Greek, German, Italian, Portuguese, and Mandarin. Also includes essential phrases in 36 languages.

Travlang
Collection of language and travel tools. Includes currency converters, listings for foreign-language television available online, phrase guides, and much more.
Digital Dialects
Free interactive games to help learn nearly 60 world languages.
Top Language Blogs and Podcasts
Explore the best of the serial web's material for languages, as ranked by Lexiophiles.com
Defense Language Institute's Foreign Language Center
Offers publicly available language resources used by military personnel stationed in around the world.
Read articles in another language!
Travlang's Word of the Day in more than 50 languages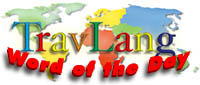 The Linguist Language-Learning Blog
Loading...